I know I've been gone absolutely forever, but I just couldn't miss talking about Christmas and linking up with my favorites! I'll be back tomorrow (
and by tomorrow I mean next year probably
) to do a little catch up.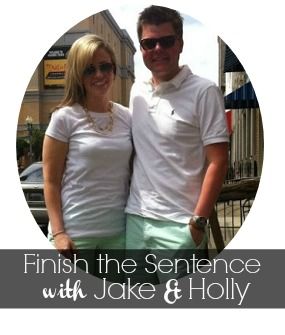 1. My favorite Christmas was....probably the year that B got her Dora the Explorer jeep. The pictures of her riding it around that afternoon are still some of my favorite candid pics of her. She was so beyond excited.
2. The worst Christmas I had...was the year I decided Santa didn't exist. That year I learned "if you don't believe, you don't receive". Or you just got delayed presents, whichever. But now I follow the rule and I believe 100%.
3. That one gift that made me scratch my head and say, "Hmmmm" was...I got some very classy diamond stud earrings from my great grandmother one year. Too bad I didn't have my ears pierced to actually wear them!
4. One year I....blew out 10 strands of lights. Oh wait, that's every year!
5. I think the worst gift to give is....Christmas stuff, kinda. I mean I really like getting new Christmas decor because I'm a girl but then it really sucks because you get it just in time to pack it up. Also on the bad list, anything that has to do with cleaning. Buy me a vacuum and I will cut you! Even though I want a new one. Give me a gift card and I will spend it on my stupid vacuum myself. I'm practical.
6. At Christmastime I typically....wait until the last minute to get our cards out and plug way too many lights into one plug in. The tree goes dark and then I go on a Griswold-ish rant about how stupid our electricity is.
7. Typically, family Christmas....is Christmas morning with just me, Jeremy and Brooklyn. It's the most relaxing time of the Christmas season. Then he have Christmas lunch with my granddad and run around like crazy people the rest of that week.
8. If I could change one thing about the Holiday season....I would find a pre-lit tree that meets my standards. A girl can dream!
9. It is so hard to buy for....old folks. I mean really. They have everything they want and aren't interested in anything you could get for them. So enjoy your family pictures, Uncle Ed and Aunt Martha*
10. My favorite Christmas tradition is...drinking sparkling cider in "fancy" glasses with Brooklyn while we decorate the tree then watch Christmas Vacation.
11. Santa, baby, bring me a ....Nikon 3200 with additional lens, cute workout gear, bondi bands & bondi hat with ponytail hole, cute booties in brown, tan, and black....and all the pretty things.
*Names have been changed to protect the innocent. Not that they read my blog. Or know what a blog is.
Now onto Jenn's list:
Favorite Christmas song: Hark the Herald Angels Sing. I have lots of more modern ones that I love but I will never forget how beautiful Hark the Herald sounded in our childhood church.

Christmas song you can't stand: Thistlehair the Christmas Bear...no I'm not joking. And it's my husband's favorite! Or he just plays it because he knows I hate it.

Favorite holiday movie: Bend over and I'll show you! Christmas Vacation

Real or artificial tree: Fake all the way

White or colored lights? White on the big tree and the pink tree. Colored on the tree in the bonus room.

All matching ornaments or more random personal ornaments? Mostly random. We have a set that matches but they don't match the color scheme of the tree topper or my wrapping paper so they are out this year. Don't judge me.

Favorite ornament: We started a tradition two years ago to take a plain colored ornament and add a word or phrase to it until we filled the whole ornament. The words are supposed to relate to something that happened within our family during the year. I love the first one we did and I love my baby ornament. I think I have the best 1982 ornament ever.

Angel or star tree-topper: Neither. We usually have a large ribbon bow with ribbon twisting down the tree. This year I got some glittery swirly things to go at the top.

Does Santa wrap presents or leave them unwrapped: He changes his mind sometimes. I like it when he doesn't wrap though.

Favorite childhood memory: Waking up before everyone in the house and see all my presents and presents for my sisters. The tree was the only light in the house and it was beautiful.

Coffee, hot chocolate, or eggnog: Boiled custard. It's like melted ice cream. Yum

Christmas morning at home or do you travel: Home in the morning, lunch with family, then back home. Sometimes we travel on Christmas day but this year we are traveling the weekend after Christmas.

Traditional holiday meal or something unconventional: Traditional I guess. It looks like Thanksgiving part 2.

Personalized photo Christmas cards, store bought cards, e-cards, or "ain't nobody got time for that": Personalized photo Christmas cards for sure