Today I'm linking up with Holly and Mel to talk weddings! I was so excited to see this link up. I'm always trolling for more wedding ideas on pinterest but now I can look to my blog loves for more inspiration.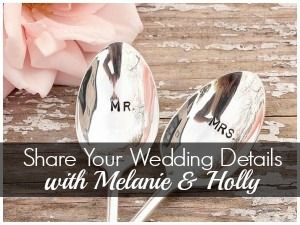 Here are the deets we have so far:
Date: We are getting married September 14, 2013....wow, 85 days!
Location : We are getting married at the Chamber Center on the square in my (kinda) hometown. Growing up I spent a lot of time on the Square because my mom worked in the court house (and this is how me and Lindsey go way back...her mom held an office there for many years). I've always thought the square was beautiful year round and now I get to get married there. And it's where some of our fall pictures were taken. I like the old brick on all the buildings.
Colors: We are going with a deep fall purple for bridesmaids dresses. No clue on flowers just yet. I have ideas of arrangements but I won't know specifics until closer to the wedding. This was my original inspiration for the purple.
Bridal Party: My sweet sisters will be my maid and matron of honor. J's sister will also be a bridesmaid along with 3 other friends. And I have honorary bridesmaids because some decided to get preggo (cough, Lora, cough #Louie). Brooklyn is going to be a junior bridesmaid and my niece Gracie will be our flower girl.
First Dance Song: I actually have not made this decision yet (sorry Mel!)...I mean, we, we have not decided yet ;) I am a big fan of mushy fairytale fate love story type movies, and I know I've said "I want to use that for my first dance" about a million times. Nothing stuck though, so I'm still on the search. Maybe I will watch some chick flicks for inspiration. J still says our first dance should be to My Chick Bad.....
DJ/Band: We are going with a DJ. I kind of want my wedding to be like one of those nights when you hit the bar with a bunch of friends and the band ends up being amazing so you dance the night away. Yea, I'm going for fun with a little bit of sweet wedding to start the party.

Random: We cannot decide which version of Canon in D to play when I come down the aisle. Is that weird that that is undecided? I love the classic version but I really really love the rock version. J liked the Celtic version. Maybe we will flip a coin.

Honeymoon: Another undecided item, suggestions?
What would you do different? I should have started planning a year ago before he even asked me hah! I never wanted a long engagement but apparently I needed longer to plan!
That's most of the decisions that are made. I still have to pull everything together now and write checks to everyone and their brother, so that's fun.
I can't wait to go check out the rest of the posts in the link up. Make sure you check them out and share your own story!