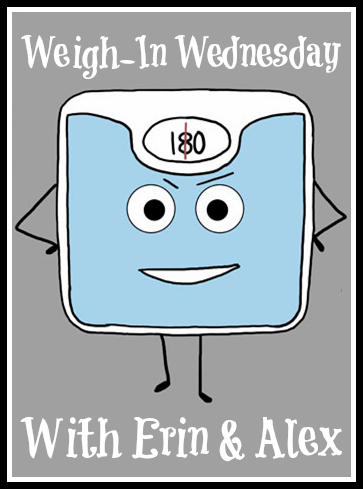 Happy Weigh in Wednesday!!! It's judgement day. Final dietbet weigh in day. No need for a drumroll though. Nothing too impressive around here. Weighed in the same as last week but I'm actually super excited about keeping that number. It's a number I haven't seen on a consistent basis in a while. And luckily, I have until midnight tomorrow to lose my last 0.8 lb to reach my dietbet goal and get my dollas back.
Some accomplishments this week....
I said no to a blueberry donut. That has never in the history of donuts and work, ever happened to me. Ever.

I went to the gym 3 times during the last week at lunch. Finally have a little groove going....10 min mile on the treadmill then on to weights for about 30 minutes. This always includes the leg press and some ab work. The arm work rotates from day to day depending on which machines are already occupied and if I can get in some work with the free weights

Got in a 3 mile walk during the last 35 minutes of softball practice. Where B practices there is a track around the complex. I think about 3 laps equal a mile. Toward the end I had to start running half of the laps because walking was hurting my shins. Ouch

I've gotten better at "make ahead" cooking. Monday I made the meat portion of Monday and Tuesday's dinners. Then last night I made the rest of dinner and part of tonight's dinner. I think Thursday will be a crockpot meal. This cook is getting tired this week.

I ate dark chocolate. I know this isn't really an "accomplishment" but hear me out....I hate dark chocolate. It sucks. Give me caramel and milk chocolate. White chocolate is my jam. But this week when I knew I needed a sweet fix instead of having a rolo or Reese's, I had a Hershey's dark chocolate mini. For the first time I ate a piece of dark chocolate....on purpose! And I broke it into little pieces so it lasted all afternoon.

I have lived off one can of Dr P per day....this is about a third of the norm for me. And in the last 48 hours, I've only had water.

Baby steps, people, baby steps!
That's pretty much all that's been going on diet-wise this week. I hope to log a few more hours in the gym over the rest of April though. Before I know it, it will be summer and vacation time and patio party time! I've got my mind on the beach today too.
And it's this dress's fault. This is only the second time I've worn it. The first being at the beach back in October. I felt the need to throw on something bright today but of course this morning's starting temp was around 40...hence the jacket. Boo.
Now I need everyone to do a little anti-rain dance for tomorrow. It's Redbirds opening night and we have 2nd row seats behind the dugout....and my Cardinal buddy, David Freese, is in the starting lineup. He's rehabbing in Memphis. I'm SO excited!!!