You know I love me a good link up on a Friday. And how cute are stick figure Holly and Jake below? I am sleepy and cranky this morning, so you just never know what kinda answers I'm giving out today for this. And since I am totally not caught up on my blogs yet for the week, I am not going to be much help for Lora's linkup, but seriously, go over there read and linkup! I'm behind so I'm going over there to see what I missed out on this week.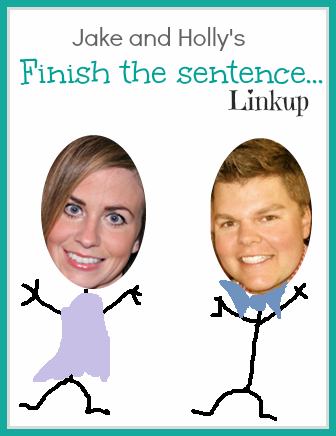 1. People always tell me....there'll be days like this, oh there'll be days like this...no wait, that's what momma says. But seriously, I have a lot of people tell me they didn't realize I was funny....umm ,thanks...I think??
2. In the movie based on my life...I want Reese Witherspoon to play me because I like to pretend my Southern accent is as cute as hers.
3. Typically, I end up regretting....procrastinating. I am SO bad about that.
4. I always ask to leave off the....mustard and onions. Geee-rody! Side note: I like cooked onions and honey mustard. Just not the regular stuff.
5. Kim and Kanye really...are the same person, didn't you know?
6. My Parents always reminded me...that I "would see" when I got older. And man were they right. Apparently they were always right. I hate admitting that.
7. Every single day I.....look in the mirror and know I'm a BAMF....or just brush my teeth, whatever.
8. This one time in College...I ran into my professor off campus during our class time. Apparently we both skipped that day?! It was awkward. Especially since I told him I was out of town in an email earlier that day. Oopsy.
9. My grossest habit is...biting my nails probably. I can't help it. I swear.
10. My latest white lie was..."No, those don't look like Mom Jeans"
11. I know all the words to..."Ice Ice Baby" and "Ain't Going Down Til the Sun Comes Up" I like the white boys that can flow...haha
12. When I grow up...I want to be Holly, no but seriously. Except she's younger than me. So I guess I just want to be sexay when I grow up!
13. Sexy time is...oh boy, what if Lindsey's Memaw finds my blog. Not going there.
14. I will never, ever...make the mistakes of my 20s again, or eat Taco Bell before a 5k, or drink bubble gum vodka, or go a day without saying "I love you", or stop loving cray cray reality tv....and many more
15. I think it's hilarious...when people run into things. I just can't help it. Don't say that's not funny! You know it is!
Ok, ladies and gentlemen, have a super awesome weekend! I will be at the ball park until late tonight. Gotta go find some toothpicks to keep my eyes open through the late game. Then it's up early for my workout! Wish me luck!