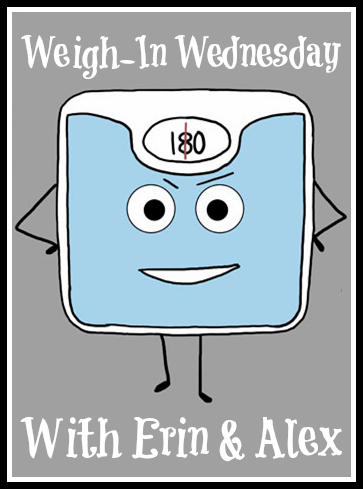 Happy freaking Wednesday!! Wednesday is trying it's best to become my favorite day of the week. All because of a little thing called Weigh in Wednesday. Earlier this year I was not so excited to see that scale on Wednesday morning. I would regret that extra serving of dinner the night before. Regret the piece....who am I kidding...pieces of chocolate while sitting at my desk at work. Regret not making it to the gym one single time. Today I worried that I hadn't done enough this week. Last week was a big week (I sound like I'm on the Biggest Loser now) and I stuck to some goals. This week, I didn't think I had given it my all. But I stepped on the scale to...
another pound gone!
Yep, gone because it's not coming back! I stayed in the decade I wanted to be in and went down some more. Now I am just one tiny little pound away from reaching my DietBet challenge goal. And the biggest thing this week....I actually feel like I.can.do.this. That is huge in my book. Things finally are clicking. I have a list of healthy dinners for the next two weeks, healthy lunch options, my bags have been packed for the gym on days I can stop by at lunch, and I have started pumping iron instead of just doing cardio all day errrday. I am not at the place I want to be just yet, but I can see that I will get there if I keep this up.
Ok on to the next topic. I realized this week that I haven't posted a pic on here of our newest edition to the family yet. Yes, this one was planned...
Meet Kallie our rescue doggy. I made an agreement with Brooklyn many years ago that once we had a house, she could have a dog. Every kid needs a dog, right? Well, before we closed on the house, B was already bugging me about a dog. I started wishing I could take back that promise. I didn't want to have to potty train something or worry if it was going to eat up my favorite shoes while I was at work. One day when I was off work I randomly checked out this local rescue group that fosters dogs until a forever home is found for them. These people really are dog people. They love these animals like they are their children. And that's when I found Allie. A good natured, house broken, adult Schnauzer/Terrier mix. After a few emails, calls and paperwork, we got to take this cutie home with us. I seriously could not have asked for a better dog. She is one big cuddle bug that already understands most of the commands we give her. Since Jeremy's lab Allie passed away last year, he wasn't really keen on the idea of calling this cutie Allie, so we let B decide what letter to put in front of Allie to make it slightly different. She went from Kallie, to Sallie, to Mallie, to Sallie and then back to Kallie and that is what we are sticking with.
Now I think we are all up to date. I know you are relieved! Hope everyone else's Wednesday is going as good as mine! See ya'll tomorrow!