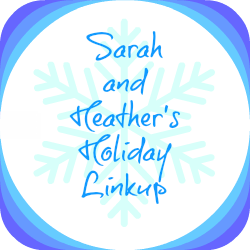 Happy Friday (for me) everyone!! Today I am being lazy. Not enough time to put together one of these posts I have waiting in my drafts but still need a little work. But I did want to join in on the Holiday link up. Hope everyone else is more ready for this weekend and next week than I am!
What's your favorite holiday movie? Christmas Vacation. Hands down! We watch it every day after Thanksgiving!
Do you have any special traditions?
Well I spilled one on the question above. We watch Christmas vacation and drink sparkling grape juice from what B calls "fancy glasses" on the day after Thanksgiving while we decorate the tree. We also open one gift each on Christmas Eve....surprise, they are always Christmas PJs, usually matchy matchy so I can take cute Christmas morning pictures. We also make it a point to go to Starry Nights and Christmas City each year...wow, just realized I need to add those two things to my to do list!
What's your favorite ornament or decoration?
That's tough. I love snowmen. Absolutely love them. I have some cute snowmen ornaments and decorations and I love my snowflake lights. I guess my favorite ornament is my very own baby's first Christmas ornament. It's a rattle and inside it is a little mini nursery. I guess it's my favorite because I've seen it every single Christmas I've been alive. I'm actually sort of surprised my mom let me take it.
Best gift you've ever received?
This is tough. My parents do an awesome job shopping for us for Christmas and I'm sure my best gift would be from them. I just can't think of anything in particular. They always had a way of getting me everything on my list plus several great surprises I hadn't even thought of.
Worst gift you've ever received?
Hmm. I don't know if I've ever received a "bad" gift. I've received several generic gifts that were kind of boring. What about no gift at all? Does that count?
Favorite winter accessory?
Scarves! Although I wear those all year round just different styles.
Real tree or fake?
Fake all the way. I cannot stand Christmas tree smell and I don't want to sweep/vaccuum 20 times a day.
When and how did you find out that Santa was not real?
What are you talking about?? seriously? That makes no sense. Santa is SO real.
Merry Christmas from Glitzy the Christmas pig!