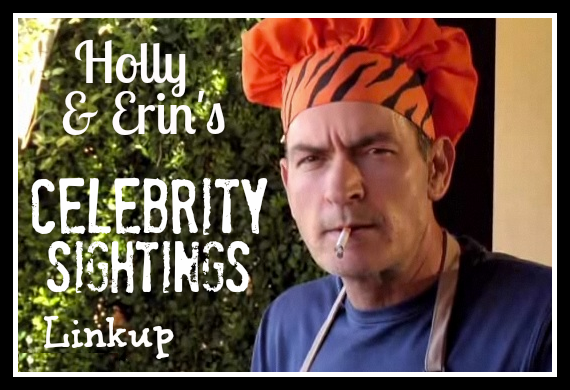 When I heard about this linkup, I thought it would be pretty hilarious to read some of the celeb sightings. Those are always interesting. But I was a little bummed because I have never met a celeb....then last night I realized I am really in with the celebs. I guess I was so used to being with the famous people I forgot completely that they were famous and not just normal people.
First let me let you in on a secret....I'm in the Memphis area and everyone from Memphis is related to JT (hey Lora, now we really are cousins! #redneckproblems).
But I really am related to him. Like I've met his grandparents at our family reunion. That's big stuff people! Also, when my friend Erin's brother used to work at a fancy restaurant in JT's official small hometown, he would let us know whenever there was a reservation for "Timberlake" party of 5. We would have totally run into him and Jessica last time if we happened to walk to the bathroom at the same time the doors to the party room were opening for a server to go in. So close!
I've met another Memphis celeb at least a handful of times. If you are a wrastlin' fan, I'm sure you know Mr. Jerry the King Lawler.
When I lived in East Memphis, I used to see "King" (as us close friends call him, obvi) at Perkins for breakfast all the time. Then my real meeting with him happened when we were both shopping for cell phones at SunCom (remember them?) in the mall. We had a small conversation about how far cell phones had come from the brick phone to the smaller brick phone.
But my favorite celeb sighting has to be the night I became Mrs. Lachey. I know what you are thinking right? I didn't know Nick was married before Jessica. You may or may not be right, I never did my research, but guess what? We aren't talking about Nick. Nope. I looked complete past his Jersey Shore Ronnie-looking-1998 self and fell head over heels in love with his brother Drew....
Be still my heart. We were at a cheerleading camp in Martin, TN and these guys were our entertainment that night. Makes me wonder if all boy bands tour the cheerleading circuit before making it BIG. It was in the middle of Invisible Man when I promised Drew that he would never be invisible to me and then we made out. So what if he thought my name started with a V when he signed our marriage license the picture of him and the rest of the band. I mean, he added a little line at the top of the V to make it look more like a J. Obviously that is true love. Unfortunately, I broke things off with him once I realized he didn't have a big 4x4 truck with a lift and "flows" and the rest is history.
That's pretty much my celeb BFFs for now. And if you are wondering how I did in the lotto, let me just say...I told you so. I totally won last night! Our work pool won $8. I know, I know, what am I going to do with all that extra money. Well, never fear because there were 20 of us in the pool, so that brings my winnings to a much more manageable 40 cents. Whew! I have an appointment with my financial adviser this afternoon to see what my best plan of investment will be. Wish me luck!
And go link up with Holly to let me know if your celeb sighting is even half as cool as mine!
**Edit**
I deserve to have my "World's Biggest Cardinal Fan" title stripped from me for not adding this picture to my celeb post...
This would be the time I met Cardinals ace pitcher Chris Carpenter at Cards spring training in Jupiter, Florida. Strangely enough, this is around the same moment I lost the connection from my brain to my mouth that allows me to speak. I couldn't even ask him for an autograph, I just stood there starring at him. Another fan reminded me I had a ball and marker in my hand and THEN reminded me I should take a picture with him. Thanks random fan that had more Cards swag than I have ever owned in my life. I also met (ie got their autograph) former coach Tony LaRusa, Jason Isringhousen, Anthony Reyes, and Jeff Suppan. And Tyler Johnson handed a baseball to my daughter when he was walking from the practice field over to where the pitchers were warming up. Always take a cute kid along when going to training camp!
Ok now I feel better. Sorry that I left you out the first time, Chris (XOXO).