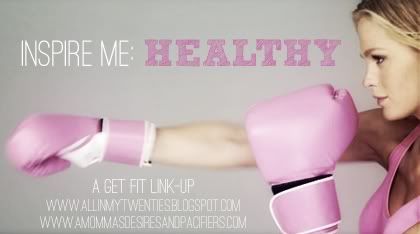 In case you didn't know, this is pretty much my favorite link up. I hate to make the other link ups jealous, but I love this one. Not that I love the topic. I would much rather the topic be "I am totally 100% in shape and have like no body fat and walk around in a bikini like I own the place"....but that would only really take one entry to sum that all up. The rest would simply be photo ops. With that being said, you KNOW I must have been swamped to actually miss the true link up day! First one I've missed in 8 weeks.
Even though it's my fav link up, I don't have much news to report this week. I did manage to lose half a pound. Better than nothing. And I did make it to Zumba and sweated my tail off. I weighed the day after zumba and I was down FIVE pounds from the previous Thursday. I knew it had to be a fluke though...4 and a half of those jokers came back.
My one measly little goal last week....failed it. In my defense, I planned to go yesterday then ended up making a trip to get cute light and cheap tennis shoes. I got a hot tip that my local TJMaxx had the super light New Balance running shoes for like $30....can't pass that up, right?! Well, that was a bust too. They didn't have them anymore. So I guess I will be carrying that goal over to next week except I'm going to double it. I want to work out at lunch twice next week. The weather has been beautiful lately so there's no reason why I can't just bring tennis shoes and go walk/jog around the park. I would commit to hitting the gym this afternoon but I have something super awesome happening this afternoon and hopefully I can share good news about that soon :)
Ok, I hope everyone reached their goals for this week. Time to get in serious gear. Gotta reach those goals before the tempting holidays get here!