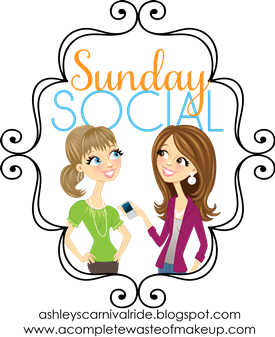 Today I linked up with A Complete Waste of Makeup for Sunday Social. Each week you get a list of questions to answer. And here are mine....
How did you come up with your blog name?
Running on Empty is a good way to describe how I feel on most days. Not in a depressing way, but just in a constantly busy way. We always have something going on. We always feel like we are running to our next project. At least we are running instead of walking right? Plus, I have been known to drive my car when we are pretty much running on fumes, so it just works for me.
What is your favorite thing about blogging?
I love the "community" feel. I have made friends through the blogosphere. I also love the exposure to different parts of the country (and world). And exposure to new products and fashion.
What is one thing you have discovered because of blogging and now cant live without?
My Erin Condren planner. It cannot leave my side. I took it out of my laptop bag one night and forgot it at home. I really felt naked all day. It was sad.
Facebook or Twitter? and why?
Hmm, right now i am loving twitter. The crowd is a little more accepting. You say too much on facebook and there's drama. Plus, twitter has my favorite celebrities, singers, bands, reality

whores

stars. It's just lots of fun. I still love my facebook though.
If one celeb read your blog who would you want it to be?
Carrie Underwood. I think we should be BFFs. Then we can shop together and I can go workout with her. I would love to have her legs. They are crazy in shape. Plus, she could come sing at my wedding #notevenengagedyet.
What is something you want people to know about your blog?
It's going to get better, promise. Haha, but seriously. It takes a lot of work to keep a blog going. Life happens so fast and you want to document it all, but there just doesn't seem like there's enough time. I'm going to do the best I can though :)
Now, go check out the link up and answer this week's questions.